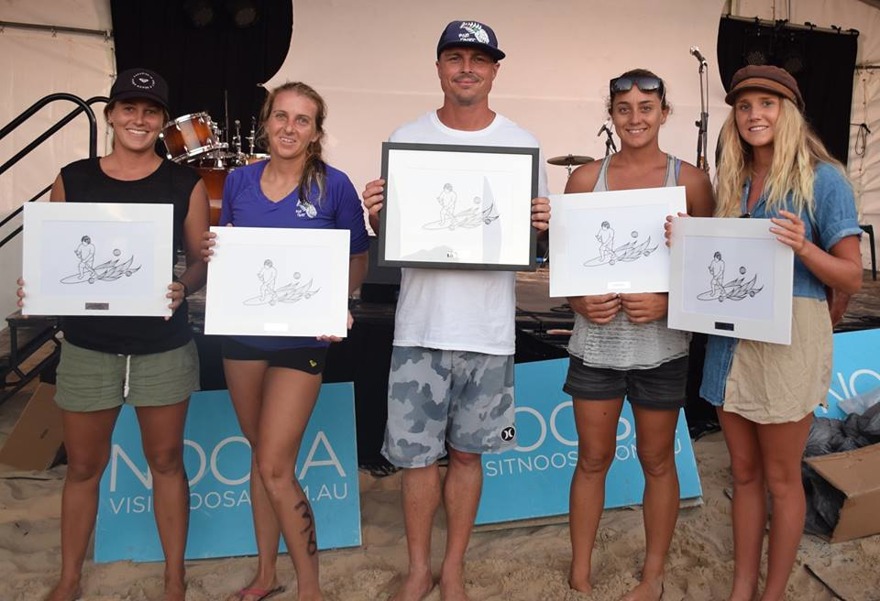 Noosa heads is home to one of the most iconic surf spots in the world, first point. The SUP surf competition was held at that beautiful spot with a nice peeling rigth handed wave. Conditions was small waves and clean and we had a great time competing.

We were six women competeing in the final, all girls were ripping that wave. I had a slow start, sitting to wide of the point, but maneged to take two scoring waves that got me up to a 3rd place. Winner was Sasha Kauhane from Hawaii, second Shakira Westdorp from Australia, they were ripping and congratulations to all girls!

So happy to start my surf season with finishing 3rd at Noosa festival of surfing. It's a big dream of mine to surf in a surf contest in the land of surfing. I can't really beleive it, that I made it this far. If someone would come up to me, 3 years ago and say "Sofie, three years from now you are going to be a competitive surfer, competing around the world, finishing 3rd in a competition in Australia" I would never believe them, but I would secretly hope with my whole heart that they were telling me the truth.
DREAM BIG LITTLE GIRL, I BELEIVE IN YOU.
SOFIE
Läs hela inlägget »
Where to begin.. what an EPIC weekend at the Noosa festival of surfing! Great event, well organized and just amazing, packed with great athletes! I went in to this weekend with no experience in the SUP race part, didn't really know what to expect but I'm so happy I entered beacuse I have learned so much!

Distance race was defenetly the hardest one for me mentaly, I havent done much long distance and during the race I just started to drift off in my mind to how hard it was, and right there, when I lost my focus I lost it all. I finished the race and I just thought never again, but it took me about an hour and then I started thinking of what to practice and how to become better. It's not always about having fun, pushing your limits, wokring hard for what you want is not always easy and fun, and that goes for everything in life. With that in mind I know how rewarding it is to push your limits and go after challanges. The race was beautiful along the points of Noosa heads, we did 14km, two laps of one course. Trevor Tunnington impressed me with an outstanding sprint, before the last turn he was around nineth and the next time I saw him he was 3rd and finished that way too, super impressive by these great athletes here! I finished on 1:41:52 so let's work hard and push our limits!

Technical race was so much fun! I absolutly loved it even tho it was super tough! I really like the variation in the race, we had to paddle around two bouy and then catch a wave in to shore, run on the beach, five laps. This keept my mind bussy and I really like that, I was smiling everytime running up on the beach hearing my friends cheer on me, loved that wibe. It's also so much fun, everyone was competing together which created a lot of happenings during the race, people were falling off, catching the same waves, paddling in to eachother. It's the kind of race were everything can happen, it's action! I finished on 29:55 super happy to try this out and finding myself really enjoying it!

Finished on a 7th overall this weekend according to supracer.com, and I'm super stoked! Best part of it all is that I know exactly what I need to practice for the upcoming events. Hoping to enter some of the Eurotour competitons this year, so I better continue my training.
IF YOU NEVER TRY, YOU WILL NEVER KNOW
SOFIE

Läs hela inlägget »