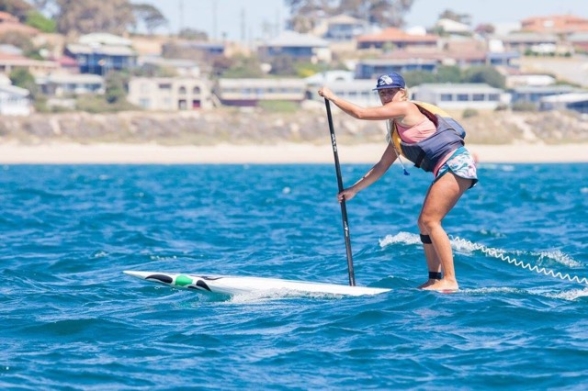 Okey, so I'm just going to start and tell you all how you HAVE TO visit western Australia! It's a must! I can not beleive more people havent told me that? It's so beautiful, clean and friendly. I love the coast line with empty beaches and clear blue water, waves and wind. WA is the perfect place for watersport and roadtrips with friends.

Team Blue Planet (Skyla, Nathan, Ty and I) went over for the Down wind week. We had such a great time together, explored and paddled every day. First competiton was "The Doctor" which Nathan and Ty entered , it was super windy and they paddle 27km from Rottnest Island to main land. I'm so proud of them both, they did so well and their positivity and passion inspired me so much.

During the week we had plenty of wind in the afternoons and we all went paddling down wind. Perfect conditions along the coast do down wind and catch those bumps. I paddled on my bump racer 14' x 25 and had a blast, specially when the bump got bigger it surfs really well. Nathan and Skyla went on a new prototype thats designed for smaller bumps and towards an all arounder, which means ocean and flat water. They were having a great time on that model, Nathan connected the bumps so well and Skyla was flying on those bumps for beeing her first time, she's such an talented waterwoman and I'm lucky to surf and paddle with her. Ty paddled on a ocean board, duggout he was super fast and thaought me so many things about connecting bumps. I'm blessed paddling with these great athletes.

Race day of "the king of the cut" was hot and not so windy, but thats competiton, you have to prepair your self for anything and as my coach Brenden says "think of yourself as a paddler" which refers to not beeing only a flat water, or ocean paddler, or down wind paddler, but to be a paddler. King of the cut had some talented and amzing athletes and it was a great experience for me doing my first race that long, 24km. I caught some bumps in the first 5km then I struggled so much I couldnt find any small bumps to get on to and paddle the rest like a flat water paddle. Best thing is that I kept my head focused and felt happy and good all the way. I did fell in when I saw my first ever flying fish, but that was totaly worth turning my head for! Congratulations to all competitiors, huge thank you to Blue Planet, Team Blue Planet, Roxy, friends and the event organisation. I can't wait to be back for 2018!
BEST RACE TRIP EVER!
SOFIE
Niklas » Swedish summer eve: "Hej Snygg video Du skulle surfat efter skotern till Båstad Fick sällskap av 4 t.."