EUROPEAN CHAMPIONSHIP 2017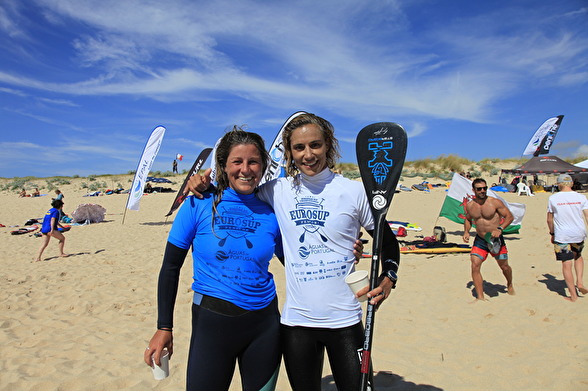 It's been a while since we had the European Championship in Portugal, but I still want to write a bit about it. Once again the European surfing federation did a great job organizing the second Euro SUP. I love this event, last year we had a great time together and this year was no exeption! All contries were so positive and happy to be at this event, all of us was really amped to get the competition started.

I had a rough start against Spain and Germany, ended up in repercharge, and from there I went all the way to the big final. I surfed safe the whole competition, I didnt do anything extra which was a bit boring but it also says a lot about where I am in my surfing, I am kind of inbetween. I havent managed to do this big top turns, barrels and roundhouse. What I have done in this 3 years is bulding a foundation and understaning for surfing, but it takes time coming from no ocean experince to becoming a great surfer, and I am willing to put in all that time of trying until that one day I know how to do it! In the final I really competed in that way I was tactical, I had a lot of fun during the comp and its no secret I love to compete!

I came to this Championship with one goal, to defend my bronze medal since last year. It was a different situation from what I have been before, and it sure gave me a bit more pressure, but I know all girls are awsome and one competiton doesnt define you it only showes what you can bring at that specific time. I was beyond stoked to find myself taking home that bronze medal for Sweden! "If you do it twice, you really have earned it."

Level of the girls was amazing, Spain took home gold, France silver, Sweden bronze and Germany 4th. Denmark, Wales, England and Portugal they all gave it a good fight! I know I have to step it up for next year, beacuse these ladies are on fire! Stoked to see this great dedication and development from SUP girls and hoping we will grow as a community around the world!

Team Sweden did a great performance over all and I am so porud and happy to be a part of it all. I want to thank the Swedish team and all of our sponsors, also want to say thank you to my personal sponsors for believing in me. To my family and friends thank you for all your support, it means the world!

and now.. It's two more weeks until we have the SUP surf selection to the ISA World Championship in Denmark, it's only 24 more days before the worlds begin and I know this one is going to be special. Exctied for the SUP wolrd coming together again and surifng in Denmark for the first time will be great! See you all there!
PROUD TO BE, TWO TIME BRONZE MEDALIST FOR SWEDEN!
SOFIE
Niklas » Swedish summer eve: "Hej Snygg video Du skulle surfat efter skotern till Båstad Fick sällskap av 4 t.."