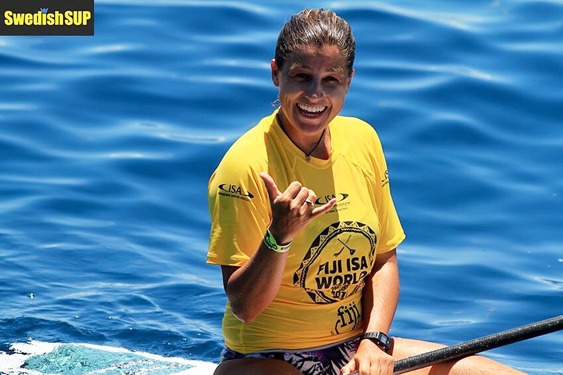 ISA World Championship, 2016 Fiji
WOW! Amazing event organized by ISA, 26 counties from all over the World participated, waves were good, big action in the finals, good sportmanship from the athlets and new friendship were made.Im just saying, WOW!

So happy with this event that really showcast the amzing talants and how far the sport has come. We got to compete at Cloudbreak and it sure showed us big waves at the final. Surfing Cloudbreak isnt easy, it takes a lot of experience, ocean and wave knowledge, surfing skills are essential, and courrage when you're dropping in to a big beast that breaks over shallow reef. I am so inspiered by the women SUPsurfers, their level is amazing.

My first heat was up against Peru and New Zeeland, I got 2nd and advanced to mainround 2. Incredible happy about my first result and I had the most fun competing in that heat. In mainround 2 i surfed with USA, South Africa and Taithi, got knocked out with a 4th place. I really love competing with different nationalities and also different personalites, you learn a lot going up against the best in the world.

Next day it was time for repercharge, I was up against Denmark, England and Spain, I came in 3rd place and therefor it was my last heat in this comp. In all I got 13th and I'm happy with my performance. I know exactly what I have to practice and also how I want to surf. This has been an extrem challenge for me, going from thinking I wasnt able to surf Cloudbreak to training, competing and doing my best at this high class wave. I feel that I have growned alot through this challange and that makes me super happy and proud!

"Team Sweden in my heart!" Team spirit is in everything we do, I couldnt have done this wihtout you guys supporting me, cheering on me and sharing this incredible journey that we are on. I love watching you guys, and supporting you on your way to the top! We finised this event with a teamrelay where I did women pronepaddling as a part of the relay. We had so much fun together and this year Team Sweden ended up on a 13th place out of 26 countried! So proud to be a part of Team Sweden!

Also this event is the most incredibe one! You meet people from all over the world who share the same passion as you do. Sharing waves, love for the ocean and teaching eachother and making new friends for life. I am forever greatful for this experience!


Niklas » Swedish summer eve: "Hej Snygg video Du skulle surfat efter skotern till Båstad Fick sällskap av 4 t.."